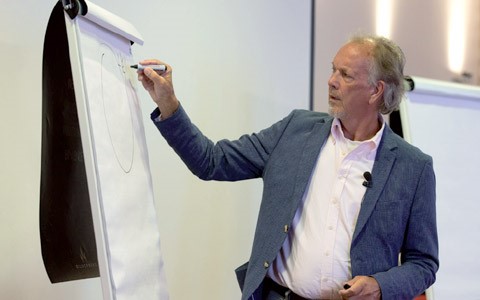 Hi, Daniel, and thank you for this interview! We are very happy that you will be in Romania this autumn and we will have the opportunity to learn about Core Qualities and the Core Quadrant and how to use it from its creator.
1. Tell us the story of Core Qualities (CQ)? How did it start?
D.O: I asume that people are familiar with the 5 minutes animation which you can find on YouTube: https://www.youtube.com/watch?v=mtRgHQjun0Q or the interview about the concept of Core Qualities: https://www.youtube.com/watch?v=gFxr8GBiEoI. The story started when I was involved in specific Quality Programmes that came from Japan in the Eighties when I realised that qualities are not limited to products but also apply to people.
2. There are a lot of evalutation tool on the international market, yet Core Qualities is gaining momentum on the market and more coaches, trainers, consultans and managers are using it and are interested in getting certified. Why do you think this is happening? Is there a connection with the times we are living?
D.O: The reason why more and more people are getting interested in Core Qualities is because it is extremely simple and at the same time it has a lot of depht. It only takes 10 minutes to understand the mechanics of a Core Quadrant but it can keep you busy the rest of your life. I think people are looking for meaningfull ways to understand themselves, certainly in the complex and sometimes confusing world we live in right now.
3. What is the best area of HR to be used in?
D.O: Core Quadrants is not specifically about HR, it is about organizational development, it is about management. Of course HR can play an important role in promoting and supporting organizational development, but it is all about taking responsibility for your own life, both in your private as well as in your working life.
4. You are talking only about qualities... we are used – at least in the Romanin culture to talk about flaws, defects, as we mainly try to correct something in ourselves and others. Why focussing on qualities?
D.O: Working with Core Qualities is not about fixing anything, which doesn't make sense. It is about learning to understand what is going on inside you and between you and the environment. It is not only about qualities, it is also about pitfalls, allergies and challenges. The tendency in many cultures is focussing on what is wrong and then trying to fix it. It makes much more sense to know your strenghts and build on that. It is all about what you are FOR, and not about what you are AGAINST. It is about transforming REACTIVITY into CREATIVITY.
5. CQ has been translated in many languages, how many? How come it has started to spread?
D.O: Books are available in Dutch, English, German, French, Spanish, Italian, Swedish, Norwegian, Danish, Polish, Czech, Romanian, Hungarian, Russian, and animation also in Arabic, Turkish, and more to come. It spreads all over the world because of individual beings getting inspired by my knowledge, experience and views about the topic and taking the initiative to translate it. It all started in Dutch, my first book in Dutch became a bestseller, and still is up to now. The same is true for the game, which for the moment is in English, German and Dutch.
6. What makes CQ a cross cultural tool?
D.O: I have worked in many countries and I have always been inspired by the receptiveness in all different cultures, from China to the USA, from Latin America to Europe. Everybody likes the beauty and the simplicity of the approach and how practical it is. You can start using it right away, you don't have to study for years. Use it with you partner, children, boss, collegues, customers and clients. Where ever people work together, it will help you to understand your own behavior and the behavior of others. You can apply Core Qualities to individuals, relationships and cultures, national cultures, company cultures and subcultures.
7. The CQ has this component of game, the cards, can it be "moved" in a "cloud" version? Is there any app coming in the future?
D.O: There is already a smart phone app, in English, German and Dutch (named Core Quality).
8. And talking about the certification training in Romania: what should participants expect from it? What should they prepare for?
D.O: What I expect most is that they apply it to themselves in a meaningful way before they start teaching others. So you can talk from experience rather than from book knowledge.